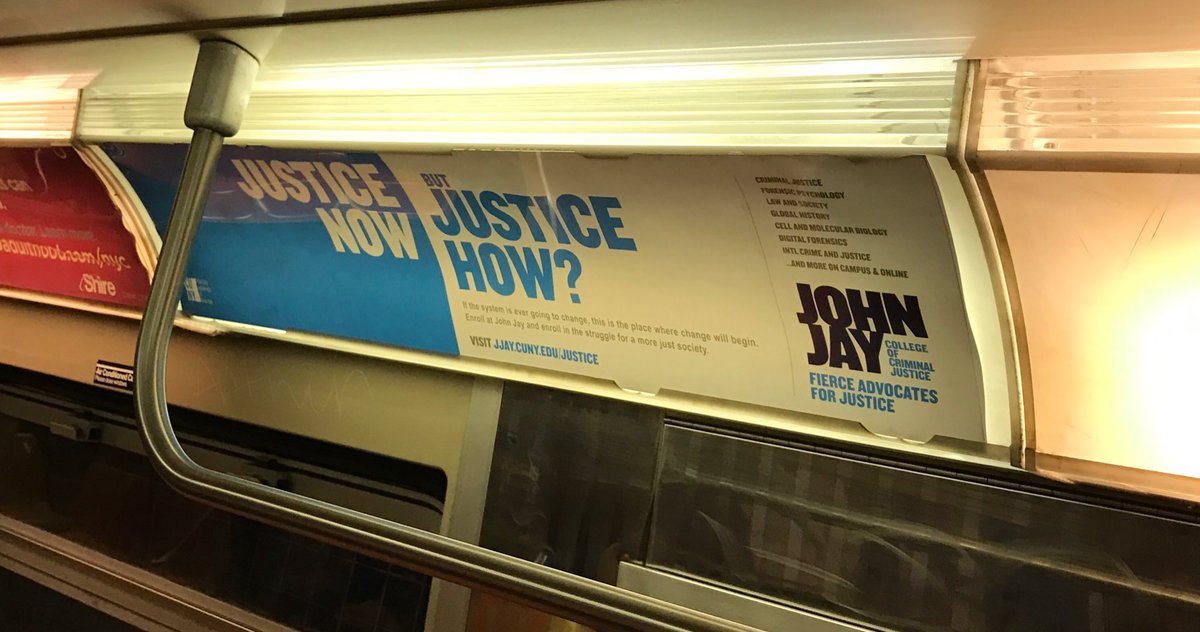 *** Subway ads of John Jay college appeal to potential students: "Do you want to learn how make money or to become a social justice warrior?" Once again, familiar problem of the Lefties: unintended hilarity stemming from their extreme hermetization. They can't perceive that 95% of potential audience's instinctive answer will be "MONEY!". And in a meanwhile, JJs themselves make quite a cushy leaving from their red propaganda business.
*** few more bizarre posters I saw yesterday: an ad depicting an angry mulatta behind a table with a cellphone on it and text "You know you can't be trusted!" in giant letters, and smaller text "leave it to specialists" from some abbreviated company whose services remained foggy. And something habitually outrageous from Manhattan Mini Storage, don't remember what at the moment.
*** A juicy scandal in AIA (American Institute of Architects, the national professional organization). Their [former] Sr.Media Relations Director S. Frank was in too much a hurry to pledge allegiance to the new presidency (to secure architectural projects within new Infrastructure expenditure announced by Tramp )- and incurred such a storm from the membership that he found his prolonged existence as  AIA exec. impossible.
Several posts following the story appeared at Archinect – and bring me much needed comic relief:
Shortly following the election of Mr. Trump to the office of the President of the United States, Robert Ivy, Chief Executive Officer of the American Institute of Architects (AIA), wrote:

The AIA and its 89,000 members are committed to working with President-elect Trump to address the issues our country faces, particularly strengthening the nation's aging infrastructure. During the campaign, President-elect Trump called for committing at least $500 billion to infrastructure spending over five years. We stand ready to work with him and with the incoming 115th Congress to ensure that investments in schools, hospitals and other public infrastructure continue to be a major priority."
Then appeared major backlash and even exodus of loser-camp architects from membership:
…"Am so curious how a pledge made explicitly on behalf of all 89,000 members of open-ended and unqualified support for a climate-change-denying, xenophobic, racist, sexist, repeated bankrupt can possibly be understood as a statement of organizational neutrality…I cannot continue my association with an organization that would permit its leaders to issue such a thoughtless and ill-considered statement on our behalf. Ours is not an honorable history of willingness to forgo enrichment simply on principle, and this statement slips all too closely to the worst of that: are we all too young or forgetful to recall that Albert Speer was one of ours?"
And Mr. Frank got punished for his dexterity.
…not all 89,000 members of the AIA do, in fact, commit to working with the controversial President-elect. As a result, many took to Twitter and other social media platforms to voice their discontent with the hashtag #NotMyAIA, which we've collected here.

Now, Scott Frank, the AIA's Senior Director of Media Relations, has resigned from his post in response to the controversy. Architect's Newspaper reports that Scott resigned due to the "AIA's severe mishandling of the situation" and "total lack of accountability".
tbc